Posts for: September, 2014
By Rotunda Dental
September 23, 2014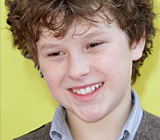 Nolan Gould, who plays Luke on the popular TV comedy Modern Family, has beautiful, straight teeth. But in an exclusive interview with Dear Doctor magazine, the young actor said it wasn't always that way.
"My teeth used to be pretty messed up," Nolan said. "I had two extra teeth when I was born. They hadn't come out (erupted) yet. And all the other teeth that were already there were starting to point backwards because it was getting so crowded in my mouth. At about the age of 7, I started going to the orthodontist to get my teeth checked."
Age 7 may sound early for a visit to the orthodontist, but in fact that's exactly the age we recommend for a first orthodontic evaluation. Malocclusions (bad bites) often become noticeable around this time, as the child's permanent (adult) teeth erupt. We might already be able to see evidence of the following problems: crowding, too much space between teeth, protruding teeth, extra or missing teeth, and sometimes problems with jaw growth. So even if your child is too young for braces, it is not necessarily too early for an orthodontic evaluation.
This type of exam can spot subtle problems with jaw growth and emerging teeth while some baby teeth are still present. Early detection of orthodontic problems makes it easier to correct those problems in the long run. Waiting until all of the permanent teeth are in, or until facial growth is nearly complete, may make correction more difficult or even impossible. That's why the American Association of Orthodontists recommends that all children get a check-up with an orthodontist no later than age 7.
Orthodontic treatment itself usually begins between ages 7 and 14. Therapy that begins while a child is still growing, often referred to as "interceptive orthodontics," helps produce optimal results. In Nolan's case, an early orthodontic evaluation allowed his orthodontist enough time to plan the most effective treatment. Nolan's two extra teeth were removed before they had a chance to push his other teeth even further out of alignment, and he was given orthodontic appliances which fit behind the teeth.
"You can remove them, which is really good for acting, especially because you can't see them. I can wear them 24/7 and nobody will ever notice."
One thing that is noticeable, however, is Nolan's perfectly aligned smile!
If you would like to learn more about improving tooth alignment with orthodontics, please contact us to schedule an appointment for a consultation. To read Dear Doctor's entire interview with Nolan Gould, please see "Nolan Gould." Dear Doctor also has more on an "Early Orthodontic Evaluation."
By Rotunda Dental
September 08, 2014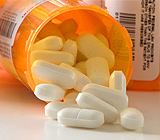 If you have osteoporosis, one of the drugs you may be taking is alendronate, more commonly known by the brand name Fosamax®. Alendronate is a member of the bisphosphonate drug family, which inhibit bone resorption (the loss of bone mass). While an effective treatment of osteoporosis, alendronate may cause an opposite side effect in other areas of the body, the inhibition of new bone growth. This effect on the jaw in particular could result in an adverse reaction after dental surgery.
The main concern is a condition called osteonecrosis, or literally "bone death." Bone tissue normally goes through a cycle of resorption (the dissolving of bone tissue) and new growth to replace the cells that have been lost through resorption. Osteonecrosis disrupts the growth phase so that the bone doesn't recover properly after resorption. This results in the bone becoming weaker and less dense.
There have been a number of cases of increased osteonecrosis in patients on alendronate after experiencing trauma to the mouth. This includes dental surgery, particularly tooth extractions. In addition, patients with certain risk factors like diabetes, tobacco use or corticosteroid therapy appear more vulnerable to osteonecrosis.
Although the risk of osteonecrosis after dental surgery is small, many dentists recommend stopping the use of alendronate for three months before the procedure if you've been taking the drug for more than three years. This recommendation is based on a number of studies that seem to indicate three or more years of bisphosphonates therapy makes patients especially vulnerable to osteonecrosis. These studies also indicate stopping the therapy for three months significantly reduces the risk of developing the condition.
There's still much to be learned about this link between alendronate therapy and dental health. It's a good idea, then, to let us know what medications you're taking (especially bisphosphonates) whenever you visit us for an exam. Knowing all your medications will help us develop the safest and most effective treatment plan for your dental care.
If you would like more information on bisphosphonates and their effect on oral health, please contact us or schedule an appointment for a consultation. You can also learn more about this topic by reading the Dear Doctor magazine article "Fosamax and Surgery."