Posts for: October, 2014
By Rotunda Dental
October 27, 2014
The Tooth Fairy has been easing the process of losing baby teeth for hundreds of years — at least 500 years according to one authority on the subject. Her name is Brady Reiter, and while she looks only age 11 in earth years, she is actually a 500-year-old Tooth Fairy; at least she plays one on DVD.
Brady is the star of Tooth Fairy 2, a new DVD comedy also starring Larry the Cable Guy as a novice Tooth Fairy doing penance for questioning the existence of the magical sprite who leaves payment under pillows for lost teeth.
In a charming interview with Dear Doctor magazine, Brady says it wasn't very difficult to play an ancient tooth fairy trapped in a child's body.
"I'm kind of more mature than an average 11-year-old because I have older brothers and sisters," Brady told Dear Doctor. "It was kind of just connecting with my inner 500-year-old. It was very fun to play a character like that!"
Brady also enjoyed working with Larry, who dons a pink tutu and fluffy wings for his role.
"In hair and makeup every morning, he'd be making all these jokes," she said. "He just cracked us up 100 percent of the time!"
But as much fun as Brady had on the set, her character, Nyx, is all business. And that's how Brady, who recently lost her last baby tooth, has always believed it should be.
"My whole life I thought the Tooth Fairy is just like Nyx," Brady said. "They know what to do, they come in, they're professionals, you don't see them and they never make a mistake and forget your tooth. Just like Santa Claus, tooth fairies are very professional."
Brady also told Dear Doctor that she is very excited to be helping the National Children's Oral Health Foundation fight childhood tooth decay as spokesfairy for America's ToothFairy Kids Club. The club offers kids personalized letters from the Tooth Fairy along with lots of encouraging oral health tips and fun activities.
If you would like to enroll your child in the club — it's free! — please visit www.AmericasToothFairyKids.org. And to make sure your child's teeth and your own are decay-free and as healthy as possible, please contact us to schedule your next appointment.
By Rotunda Dental
October 09, 2014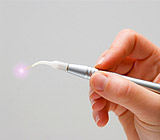 Without effective treatment, periodontal (gum) disease can eventually lead to tooth loss. That's why it's imperative to remove bacterial plaque and calculus — the main cause of the disease — from all teeth and gum surfaces. For moderate to advanced gum disease, this could require a procedure known as flap surgery to gain access to deeper infected areas.
This type of procedure involves making scalpel incisions into the gum tissue to create a flap opening. Through this opening we're able to gain access to the deeper pockets that have formed because of the tissue detachment that occurs following bone loss. The flap opening allows for better access to the root surfaces for removal of plaque and calculus (tartar). Once we've finished, we then suture the flap back into place to reduce the pockets and allow the area to heal.
While effective, flap surgery is considered moderately invasive and may produce mild post-procedural discomfort. Recently, however, a specially designed laser for periodontal therapy shows promise of less invasiveness and patient discomfort than traditional flap surgery.
A laser is an intense and narrow beam of light of a single wavelength. A periodontal laser can pass without effect through healthy cell tissue (like sunlight through a window pane) but interacts and "vaporizes" the darkly pigmented bacteria in diseased tissue. The laser energy is delivered in pulses to minimize any heat-related damage to healthy cells.
The periodontal laser can precisely remove diseased tissue, even where it mingles with healthy tissue. Once it's removed, the root surfaces can be cleaned with ultrasonic scalers and/or hand instruments. And because a medical laser seals the tissue it cuts, it doesn't produce open incisions as with flap surgery that require suturing afterward.
Studies of post-operative recovery after laser surgery showed similar infection reduction and renewed bone and tissue growth as with traditional surgery. Patients, however, reported much less discomfort after the laser procedure. Although more research is needed, it initially appears periodontal laser treatments can effectively treat gum disease with minimal interference with healthy tissue and greater comfort for patients.
If you would like more information on the use of lasers for the treatment of gum disease, please contact us or schedule an appointment for a consultation.